1、Before the New Year's Day of 2007 we successfully have concluded an EPC Contract for coal fired Power Plant (4 x 50MW) to be constructed in Republic of Tazania

2、In late November 2006 we closed our files for our client's real estate development project by receipt of repayment of the principal amount of 990 millions and its accrued interest.

3、Our lawyer Zhu Ben Fu has been admitted to the lawyers team of China Branch of ICC

4、In October we have closed our files successfully as legal counsel to our client's overseas engineering construction project of a DAP Chemical Plant in Bangladesh by successful commissioning and taking over.

5、In September 2006 we have successfully acquired China's military approvals to the applications of our foreign client for mineral exploration licenses and blocks in Provinces of Guizhou, Yunan and Tibet Autonomous Region.

6、In June we offered our legal opinion to our Canadian client for its contemplated investment in copper exploration in Anhui province of China.

7、Beginning since April our lawyers are engaged as legal counsel for our client's overseas engineering project of a coal fired Power Plant in East Africa, which include engineering construction of a coal mine and a power plant.

8、In March 2006 our law firm is invited to participate in the legal panel of the Third Summit China-Spanish Forum in Shanghai.

9、Since beginning of 2006 our law firm has been retained as perennial legal counsel for Minmetals Nonferrous Metals Co., Ltd., one of the biggest base metal dealers, and China Pharmaceutical Foreign Trade Company Ltd., another two new clients in addition to the existing ones

The year of 2004 is successful. Comparing to a small to medium sized law firm with twenty more people, B&J Partners has successfully completed more than thirty contracts, 6 of that are clients from north America, Europe and Australia, for legal services in relation to international investment and economic cooperation projects, perennial legal counsel and project counsel, litigation and arbitration on contracts and torts etc. More and more clients from both China and overseas have come to stand in our client's name lists to share our profound expertise and long standing working relations with Chinese government authorities including Ministry of commerce, Customs, Tax bureau, Ministry of Land and Mineral Resources, Administration bureau for Industry and Commerce etc. The increasing need for our legal services offers us great opportunities and challenges as well. We are confident and capable that we shall continue to provide consistent top quality legal services to our clients from all over the world.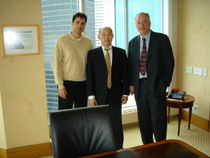 Visiting Toronto in March 2005

International investment and economic cooperation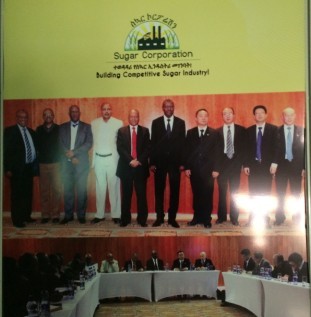 Mineral project in new Mexico
in September 2014

1. Beginning from December 2004 we are legal counsel to a world famous Australian drilling corporation in its investment in drilling project in west region of China. We have successfully concluded a cooperation contract for drilling service with a Exploration Team of a provincial geological and exploration bureau, brought in machinery and equipment, handle entry and working visas for expatriates and their local accommodation and labor protection etc.

2. Beginning December 2004 Legal counsel to a Transnational European company in restructure of its industrial investment project, purchase of state owned shares in the JV, sales of plant, relocation and construction of new plant. A full covered legal service extends to whole process of government approval, registration for assets evaluation, sales of shares etc.

3. In December 2004 full legal service to Hong Kong based Anglo American Properties Inc. for its sale of real estate property in China that involves contract, notarization, governmental registration and title transfer etc.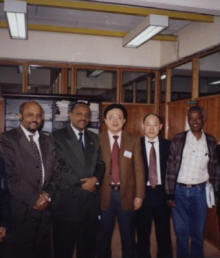 Meeting with Minister of Ethiopia Industry for
Textile Engineering Project


4. In November 2004 Upon request of former Mayor of London City, Sir Anthony Jolliffe GBE we introduced NASD (American National Association of Securities Dealers) to meet China Securities Regulatory Commission, Securities Association of China for cooperation in regulation of Chinese security market and training program.

5. In mid November under our guidance Canadian Public Listed Company, TVI Inc.'s wholly foreign owned enterprise (WFOE) based in Hunan Province of China for gold exploration has acquired qualified explorer's license, the first one issued to a foreign invested company, thus enabling the WFOE to provide drilling services around China.

6. In July-September 2004 legal counsel service to a Canadian mining corp. (SWM) in establishing a wholly foreign owned exploration corp. in China.

7. On March 2005 Legal counsel to a state owned public listed tourism company on settlement of share transfer agreements.

8. On February 2005 Legal due diligence study to an American investment company in relation to its investment project for a Ferro molybdenum Smelt Plant in Liaoning Province, North of China.

9. On July 2004 Stay legal counsel, in cooperation with Baker & Mackenzie, to Ivanhoe Mines, a Canadian mining corp. on its mining investment in Inner Mongolia and settlement of mining cooperation.

10. Stay legal counsel to China National Complete Plant Import & Export Corporation on its turn-key engineering contract for a phosphate fertilizer (DAP) plant in Bangladesh. Resumption of work started in July.

11. On June 2004 our legal opinion to Hay Wood Securities for TVI, a Canadian listing corp., for its private placement in Toronto Exchange.

12. In May 2004 legal assistance to TVI Inc. for its importation into China of drilling machines for gold exploration, Legal advice in establishing branches, purchasing mining right, borrowing from foreign country.

13. In March 2004, Singapore, Represent Canadian investor against a Chinese Petroleum Company in its negotiation and settlement of disputes arising over petroleum investment project in Africa.

14. In February 2004 visiting Ethiopia and represent our perennial client in its negotiation with Ethiopian Industrial Ministry and its designee of a turn key contract for textile plant.

15. In November 2004 Chinese tax review for foreign investors who wish to explore and mine in China.

16. others.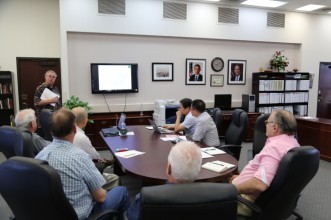 Litigation & arbitration (all cases are won except those that are still in process)

1、 On behalf of one of our esteemed perennial clients we successfully won a litigation against a Security Dealer for breach of security transaction contract and have recovered the proceeds in amount over rmb140 millions through court enforcement.

2、 we represent an international financial Leasing corporation in its claim against a provincial securities corporation for breach of contract, payment of a amount about rmb37 millions under financial leasing contract at Beijing No.1 Intermediate People's Court.

3、 In November 2004 we represented a real estate brokerage center in Beijing in litigation concerning the disputes over Agreement of Property Sales Agency with a real estate development company in Beijing.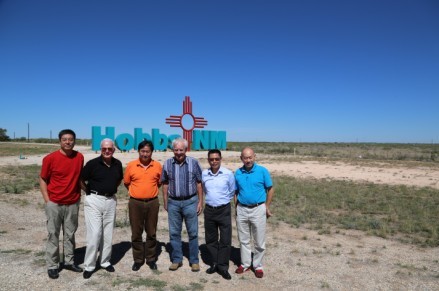 4、 In October 2004 we represented a state-owned equipment enterprise in its litigation against four national banks for their default to meet the debt under a real estate development contract.

5、 Beginning October 2004 we represent two leading Chinese financial and investment companies in litigations against a securities brokerage firm for default, tort, misallocation under supervision contract of securities trust business in the amount of rmb97 millions.

6、 Beginning December 2004 we represent an international financial leasing company in its defense against a claim brought in Tianjin No. 1 Intermediate People's Court.

7、 On September 2004 As assigned by Beijing Legal Aid Center we represented and won plaintiff, a primary school student, in her claiming for compensation against offenders (two teenagers) tortious physical injuries.

8、 In February 2004 Represented and defended China Non ferrous Industrial Corporation against a claim for liabilities of guaranty under a loan brought by a branch of Communication Bank in Hubei Province.

9、 To appeal on behalf of a smelter, with Supreme Court of Justice, in its claim against Agriculture Bank of China for breach of L/C contract and recovery of payments under the letter of credit for international sale of goods.

10、 Legal counsel to a former CEO of a leading Chinese company in the list of top 500s in Fortune magazine against claim for breach of trust and fiduciary duties brought in Hong Kong high court.

11、Defending a vice dean of High Court against prosecutor's allegation for crimes of bribery and huge amount of personal properties without due sources

12、 others
Domestic Project Counsel

1. In February 2005 We are engaged in honor as perennial legal counsel to Sales Company of China National Pharmaceutical Foreign Trade Corporation

2. November-December 2004 Entrusted by a listed state owned enterprise, B&J Partners rendered legal service for its invested company in respect to reorganization, assets and creditor's rights and liabilities, and registration with industrial and commercial authorities.

3. In October 2004 we represented China Minmetals Group in restructuring its two JV subsidiary companies by sales of state owned equities.

4. In July 2004 legal due diligence study for our client's contemplated merger & acquisition of an aluminum and a power station facilities in inner Mongonia Province in annual capacity of 600,000 tonnages.

5. In July 2004 Represent and defense our client, a real estate development company against a sub-branch of Bank of Industry and Commerce of China in Beijing.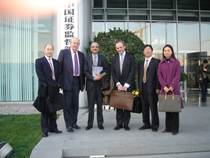 NASD's Senior Vice President Visiting with CRSC
2 from left is Former Major of London Sir Anthony Joliffe

6. In June 2004 Represented a special ferroalloy company in Huludao, and participated in the appeal litigation concerning the disputes arising from L/C entrusted agency contract against a branch of Agricultural Bank of China.

7. In May 2004 We represent a National Group Company in legal due diligence study about 70 debtors, companies and enterprises scattering in 16 provinces and 20 cities all over China.

8. Beginning April 2004 Mr. Zhu Benfu, our lawyer, has been retained as an independent director with SDIC Zhonglu Fruit Co., Ltd., a corporation listed in Shanghai Stock Exchange.

9. In January 2004 Successful representation on behalf of our esteemed client in its negotiation and conclusion of an agency and loan transaction in amount of rmb230 millions in relation to a real estate development project in CBD of east Beijing.
10. others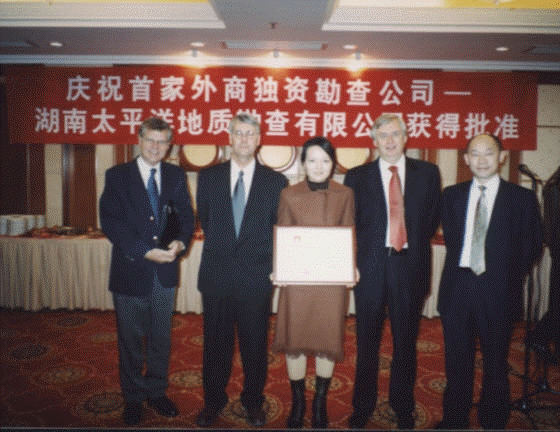 Canadian TVI's Success in Setting Up WFOE for Gold Exploration in China. left 1 is Andre L. LeBlanc, Counsellor of Canadian Embassy in China

[all cases are won except those that are still in process]

● On November 19,2003 Precedent In Beijing to sentence the defendants for infringement of trade secrets!

● Precedent for Chinese Central Government to have granted foreigne explorer approval for wholly owned exploring company!

● In early September 2002 Ben F. Zhu Esq. is visiting Florida Bar, local law school, local law firms and lawyers in Florida of United States.
● On July 8 to 18 B & J lawyers has successfully negotiated and concluded the Logistic agreements on behalf one of the 4 biggest logistic company in pharmaceuticals with German supplier Siemens and American Software Company.
● On July 15, 2002 B&J Lawyers has successfully structured and concluded a real state purchase contract in an amount of RMB80 millions for one of its prestigious clients。
● On June 1 to 16, 2002 Ben F. Zhu, Esq. was on his trip in Bangladesh representing a leading Chinese company in the negotiation of turn-key contract for the construction of Di-ammonia Phosphate Plant.
● B & J lawyers are representing his clients on project in Gabon.
● B & J lawyers are rendering their professional service for its clients to settle dispute under engineering contract with Pakistan party.
● B & J lawyers are rendering their professional services to its client to bid for an engineering project for Navy Force of Indonesia.
● On April 21 to 26, 2002 our chief lawyer Ben F. Zhu, acting on behalf of a leading Chinese company, chaired a voluntary liquidation creditor's meeting in Singapore.

● In 2002,Litigation is in process in relation to the fire of a college senior student.
● On December 2, 2001 our respected clients, friends from all field gathered at Hubei hotel celebrating the third anniversary ceremony of the Firm.
● Since February 2001 B & J lawyers have been representing a leading Chinese company listed as one of the 500 in the world in its overseas liquidation and restructure of companies in Australia, Hong Kong, Singapore, United States and Mexico etc.